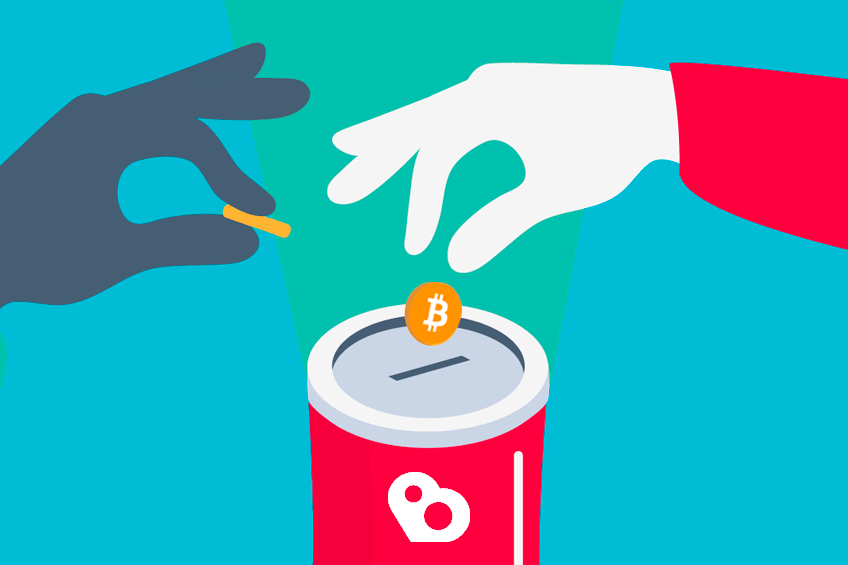 Published on: 12.07.2019
What a year 2018 was!
Apologies for reporting on our activities in 2018 so late. This didn't mean that we have been unable to do some good through BitHope in 2018!
Despite the hard period in which the cryptocurrency total market cap fell from $604 billion to $131 billion, we managed to support six campaigns with a total of 5439 EUR (~6123 USD). Here are the charitable initiatives that got funded:
The "Support Positive Journalism in Bulgaria" Campaign – 511 EUR

. The donation helped pay one monthly salary of a freelance writer enagged with the Uspelite.bg website. The guys from Uspelite published a short article about the donation.

The "Support Positive and Character Education" Campaign – 786 EUR

. The donation helped support various activities related to helping children, and actually their parents (sad), realize how important education is and why they shouldn't give it up, despite the difficulties they have faced.

The "Sports Charity League" Campaign – 1522 EUR

. The financial support coming from BitHope.org helped organize various competitions for children and adolescents. The kids were also able to select and practice their favorite sport in an organized manner - in the presence of coaches, organizers, known athletes, and an audience.

The "My Unforgettable Holiday" Campaign by SOS Children's Villages – 282 EUR

. The funds were used to help organize summer holidays for orphans - excursions and summer camps for kids that are residing in foster homes.

The "Every Child Deserves A Holiday" Campaign Part 2 – 588 EUR

. The generated financial support was donated to families (households) forced to survive below the minimum living standards.

The "Support Burgas Municipality After the Floods" Campaign – 1749 EUR

. The funds were used to buy household utilities such as fridges, washing machines, and microwave ovens for the families affected by the severe floods in Burgas municipality, Bulgaria.
In addition to the campaigns above, in 2018 the BitHope Foundation continued to support the local cryptocurrency/blockchain community by being a sponsor of the monthly Sofia Crypto Meetup (SCM) event. It covered the catering expenses of the meetup allowing participants to enjoy drinks before and after the event. SCM is the first and oldest meetup on the topic of Bitcoin, cryptocurrencies, and blockchain technology in Bulgaria. Thanks to the support of the æternity blockchain project, it is being recorded and all videos are available to watch in
BitHope's YouTube channel
. 11 meetups were held in 2018 on various topics.
Watch all the SCM meetups in YouTube
.
We continue our work in 2019 despite still not being able to open a bank account in Bulgaria. This makes withdrawing funds from exchanges a complex exercise involving physically meeting up with people and selling bitcoins for cash (Local Bitcoin-style). It also means that distributing donations to the charities that we support involves going to a bank branch in real world. In addition, it makes accounting, payments to service providers, and tax payments much harder than they are supposed to be in the 21st century. The positive side of all that is that we learn to manage the BitHope Foundation without relying on banks too much – the Cypherpunk way. It also makes us appreciate how much power banks actually have today and why an alternative is needed.
In 2019, with the crypto bull market upon us, we expect the value current donations to go up. Hopefully we will be able to provide stronger support to the campaigns that are currently listed, as well as to those that we are about to announce.
In 2019, we have decided to provide 100% of all received donations to their beneficiaries.
Usually, we retain 5%, but we don't think that is necessary at this point.
BitHope is a personal cause
. So far, no donations have been used for accounting, third party services, or tax payments. These costs have been covered by the BitHope team. All donations that go to the
general BitHope bitcoin address
are also reserved 100% for donations to campaigns. We will keep it that way in the future.
Finally, we would like to thank all the pseudonymous donors that continued to support the initiatives at BitHope.org. Thank you for helping us demonstrate the side of bitcoin and cryptocurrencies beyond speculation and dark markets.
If you are interested in donating, you have two options:
Visit the campaigns section, select a campaign and donate through your bitcoin wallet, OR
Go to the page that lists BitHope's general bitcoin address and send some crypto bits there. We will forward 100% of your donation to current and future campaigns.
Thank you for the crypto love!
Every satoshi warms our hearts!